Facilitators 2017
David Bloom
Our guest presenter David is a choreographer, dancer, teacher, filmmaker, bodyworker, pianist, father, and tea collector, from Heidelberg, Germany, and New York City, based in Berlin. Graduated the M.A. choreography course at HZT Berlin. As a performer, David has danced at the Staatstheater Darmstadt with Mei Hong Lin and collaborated with artists such as Marco Santi, Michaël d'Auzon, Nir de Volff/Total Brutal, Micha Purucker, Ingo Reulecke, Canan Erek, Friederike Plafki, Felix Ruckert, & Tino Sehgal.
Also a long-time student and practitioner of conscious sexuality, his teachers have included Midori, Osada Steve, Joseph Kramer, and Barbara Carellas. His dance films Quintet (2013), Sonata (2015), and Shapeshifters (2016) premiered at the Berlin Porn Film Festival and were screened internationally. David was a 2012 danceWEB scholar and taught at the ImPulsTanz Festival in Vienna in 2015 and 2016.
It's his first time at Summerhouse and he can't wait to get a taste of the local magicks.
Marti
Marti is a passionate and experienced practitioner and facilitator in the field of sexuality, working internationally since 2010. She loves to create spaces where we can explore our depths and our limits, often by having a really good time embracing and developing kinky skills.
Her new invitation is for women to bring what we learn in the bedroom into everyday life. It's a chance to be more in charge of our lives and not compromise anymore on who we are and what we want. Marti's personal story sits firmly behind her work and inspires other to contribute to the world with their power and their vulnerability, their wisdom and their realness.
Newman Alexander (formerly London Faerie)
Newman Alexander invites you to step into your power, live your truth and take your place in the world. His approach is about living and loving with passion and courage while honouring your boundaries and your need for safety. Through this winning combination you learn to live in Empowered Surrender, allowing your untamed spirit to lead the dance so you can joyfully express who you truly are and what you're here to do.

Newman offers workshops and individual sessions in London, Berlin, Utrecht, Copenhagen and Helsinki, as well as presenting at conscious sexuality festivals all over Europe. He's the founder and curator of Sacred Pleasures, an intimate community in London; the creator of After Pandora, the thinking pervert's playground, which he led from 2007-2012; and the co-curator of The Summerhouse Weekend, one of the hippest events on the European sex-positive scene.
Neil Johnson
The Summer House's Twisted Choirmaster, Neil, is a musician and sound artist who creates scores for theatre, film, video games and inter-disciplinary works. When not making music himself, he helps others to make it, facilitating shared musical experiences. He is passionate about music as a fundamental means of human connection which can bring about well-being, self-esteem, collaboration and shared joy.

Neil leads the Wayward Choral Society, a voice-positive, sex-positive choir which meets monthly in London and Bristol. He delivers workshops in such settings as Womad, Winter House, Bath Festival and Haus of Fluff.

He's performed all over the world including SXSW in Austin, Texas, Glastonbury and Singapore National Theatre. He has composed for various clients including BBC and Scottish Opera and has taught sound design at Bristol University for the past 15 years. He's played in many bands, notably Angel Tech for the last two decades, and has recently begun work on a new solo album.
Gayatri
Gayatri is a Sacred Sexuality practitioner inspired to support others in a shame-free and celebratory expression of their sensual and sexual nature. Gayatri believes that when we experience pleasure fully, it has a transformative effect; creating more awareness and aliveness.

As a fully earth bound goddess, Gayatri is known for her refreshingly natural, joyful, and vibrant approach. Weaving together bodywork and Sacred Sexuality teachings, she invites you to enjoy embodied experiences of ecstasy and transformation.

Gayatri is the founder of Tantra Massage Training; a modern day mystery school for awakening through bliss. Gayatri is a regular teacher at festivals in the UK and Europe, and is delighted to be part of the Summer House facilitation team for the third year running.

When she's not teaching and gadding about at festivals, Gayatri loves hanging out in nature with her dog, and singing songs on her ukulele.

http://tantramassagetraining.co.uk
Alys & Eyal

Alys and Eyal are both interested in tantra, bodies, art, sex positive living and play. They became involved in Liquid Love through the Touch and Play collective and have run many Liquid Loves at Nowhere Burning man festival in Spain in 2015 and 2016. Alys and Bozz ran a public art Liquid Love at Borderland in Denmark in 2016. Eyal runs monthly intimate Liquid Love sessions and play parties in London. For more information FB group link.

This is Alys and Eyal's third year running Liquid Love at Summerhouse.

Running Liquid Love at Summerhouse is the highlight of Alys and Eyal's summer - it is such a pleasure to connect to the community and friends from all over and share in the delights of of the Liquid Love experience. See you in the oil!!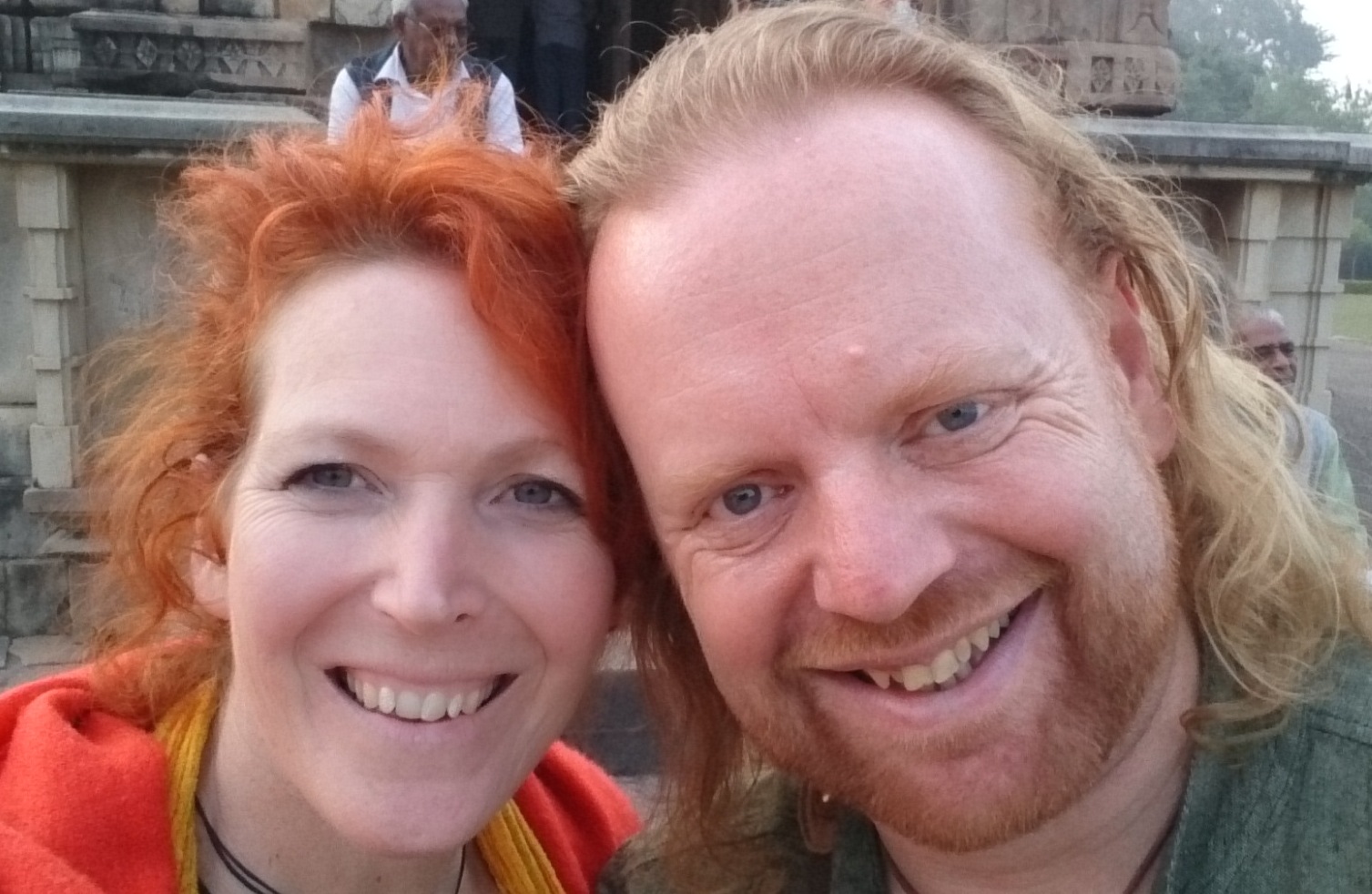 Sy & Ash
Sy and Ash are Brighton based Conscious Sexuality teachers and practitioners offering a fabulous variety of ways to explore YOU to the next level! Their passion is self-enquiry and development through Joy, Pleasure and Self Awareness. They have trained in a number of different tantric and shamanic techniques and they incorporate these skills with their 23 years of exploring relationship together, to bring a truly unique and different approach to what they offer YOU.

In all their playshops and private sessions they are here to ensure you feel really safe and supported in your choices and explorations of yourself, whether individually or in connection with others. They offer you a space to re-connect with your own true expression of sexuality and joy, so… Come & Play!
Katy
Katy blends traditional teachings with a contemporary approach relevant to the world we live in, helping you to relax and let go of tension. This integral style of yoga connects body, breath, heart, mind and soul. When she's not running a retreat or facilitating a workshop you'll most likely find Katy working and playing in alternative communities and in nature, inspired by a more beautiful world our hearts know is possible (hat tip to Charles Eisenstein).
Santi
The founder of the infamous Rumpus parties, Santi is a long-term Summer House collaborator and runs our production and crewing via his company Rumpus Productions.
Santi will also be helping us put on a show for our Saturday night Rumpus cabaret, sparkle and spin abound.
Shannon
Shannon Meow is a jack of all trades, but mainly an artist who takes pleasure in making beautiful and outrageous accessories and sculptures from unused materials. Shannon is also core crew for Kinky Salon London, runs taxidermy and craft workshops in London, often organises ice breakers and games, builds websites, and writes....sometimes. She will be heading up the Summer House making and costuming in her Craft Den.
Sarah and Tony
Sarah and Tony Pletts – artists and life explorers – head up a team of sensitive, playful people from the Summer House community who are experienced in negotiating bundaries and staying present in order to serve the meal of your choice at the Sensation Seekers Diner. Please note, the staff are willing volunteers, not professional chefs or masseurs. The Diner is delighted to be back for its third time at Summer House to cater for your culinary* needs. (*food free)
Adam & Gabriella
Adam and Gabriella met and felt inspired to share with the world all the tools they have learned in their paths. Coming from different backgrounds but sharing the same passion, they are excited to continue their journey of expansion with you.

Gabriella is a natural performer; she has danced, sung and acted professionally all over the world since childhood and is now also an educator of both young and old.

Adam has led hundreds of workshops for thousands of people and is also a performer and dancer with an intention to inspire and motivate people to be the best they can be.
Alice
Alice is a performance maker, sonic artist and singer. She has been involved in facilitating workshops for many years in theatre and live performance, vibrational healing through the voice, body work and music. She is currently part of a punk duo 'asthma' and is in the process of re-writing and performing her solo show. She is passionate about the power of theatre and voice work for self-expression and healing and is currently training as a Dramatherapist. She looks forward to creating a safe holding space for the participants of Summerhouse 2017.
Annie
Annie is a published erotic writer, poet, public health professional, pleasure propogandist and guerrilla girl of HIV prevention. She founded 'The Pleasure Project', the leading organisation putting the sexy into safer sex because' sex education is rarely sexy and erotica is rarely safe'. The Pleasure Project builds a community of creative practice promoting pleasure in sexuality education and 'Share Your Fantasy' salons that encourage people to share them in the pursuit of good safe sex. Anne is a lover of erotica who has run sex education programmes in the UK, South Africa, India and Thailand.
Carmen
Carmen is an award winning project management director and events organiser working in healthcare communications, helping people to access the care and information they need. She has facilitated many workshops and events over the years for promoting good critical thinking in science and politics. This will be her third Summer House and she is thrilled to be a part of it. You will find her running workshops this year on getting organised and how to spot bullshit, or playing in glitter in the craft tent!
Clara
Clara is an avid explorer of the relationship between intimacy and empowerment, drawing on her rich personal experience as a Dakini, Conscious Sensuality Teacher and Coach.
She is passionate about helping people connect back to their wild, embodied nature with extensive experience supporting groups through processes of transformation holding a space centered in love, truth and sovereignty. Her approach focuses on building personal power and clearing our system of dogmatic programming so that sexual and emotional energy may serve as fuel for our evolution.
Best known for her popular workshops on Sexual Shamanism, Clara is a regular speaker at the Sexuality & Evolution of Consciousness Conference in Israel and is Faculty Apprentice with ISTA.
David
David is an award winning radio, podcast and stage Producer. Over the last few years he's produced live comedy shows, a podcast with 6 million downloads last year, and has over a decade's experience at sport radio station talkSPORT. 'I had an amazing time last year at Summer House and I want to help people sharing their experiences in their own voice. Come and share your stories, your problems or what's on your mind!"
Eithne
Eithne lives in London and is interested in disability, sex and relationships, and their intersections with other identities. She likes getting people together to think and talk about sex in mutually-supportive spaces, and thinks that sometimes the trickiest discussions are the ones most worth having.
Ellie
Ellie believes partner dance is a powerful tool for exploring connections and building inclusive communities. Her classes have been described as "the most creative dance classes I've ever taken part in" and "like falling down a magical rabbit hole." Ellie is a member of the guerilla Lindy Hop troupe the Mudflappers and the founder of two London skill share dances. She has taught classes worldwide, including for Recess events, LeeFest, Shambala and Festival No. 6. She's excited to share blues dance at the Summerhouse – you're going to love this stretchy, gooey dance, all about connection, connection and, wait for it, connection.
Eva
Eva is a joy coach and freelance trainer who helps people connect with their happiness and creative power, so they can grow and develop along their unique pathway. Eva is also a self-expression enabler, laughter yoga teacher and artist with a project on orgasmic sounds and the wisdom of the body. She is a passionate tango & blues dancer and regularly organises Human Stories in London, which bring diverse people together to engage in meaningful, open-minded conversations. Eva has facilitated workshops in Glastonbury, Mental Wealth Festival-Citylit, Wellcome Collection, Goldsmith University and in the streets of London and Italy.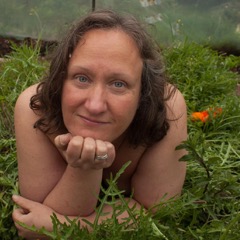 Hazel
Indulging in her second bite of the Summerhouse cherry, Hazel creates spaces where body, heart and mind can unite to manifest your soul's yearning. With over thirty years experience in conscious movement practices, Hazel combines her mastery of Movement Medicine with shamanism, sexuality, kink and consent to bring you on a journey of self-discovery. She's been teaching in both public and private settings for the last 6 years and is thrilled to share her passions with you this weekend.
Lolo & Scarlett
Award winning burlesque artists Lolo Brow and Scarlett O'Hora are members of The Family Fierce and co-creators of the sell-out all female performance night LADS. Not only known internationally for their fierce solo work but also for their infamous double acts, bringing filth to all occasions.
Midnight Iris
Midnight Iris is a performer in both the arts of Bellydance and Burlesque and has been gracing stages across the UK for over 8 years. Her repertoire spans from traditional styles, to her more favoured weird and wonderful acts. She has also spent some time training in contemporary dance, ballet and Iaido (a sword based martial art) which feeds balance, grace, emotion and variety into her dances. You can see her performing at a variety of nights, cabarets, weddings, festivals, fetish events, and many more.
Paulina
Paulina is an ethnographer passionate about exploring the untold stories around sexuality. Her recent work is Pleasure Maps, an arts and storytelling project exploring how women relate to and live their sexuality.

Sex can be hard to talk about. Our stories and questions too often stay unshared while sexuality remains a central part of how we relate to ourselves and others. Paulina believes that unearthing these stories can heal, empower, and connect women and men alike. Pleasure Maps includes intimate stories from women of all ages, races and walks of life. Paulina hopes to broaden and deepen what it can mean to be sexual, one story at a time.
Tristan & Yulia
Tristan & Yulia have a passion for conscious dance and movement, which they love to share. Both have been on a transformational path where music and movement has been a big part in their spiritual growth.

During their Ecstatic Dance journey Tristan & Yulia will be holding space for you to dance, connect and explore. Their invitation to you is to express yourself through free form movement and to dance like no one is watching. Free yourself from your mind and judgment and just be true to what is happening within you at this moment.